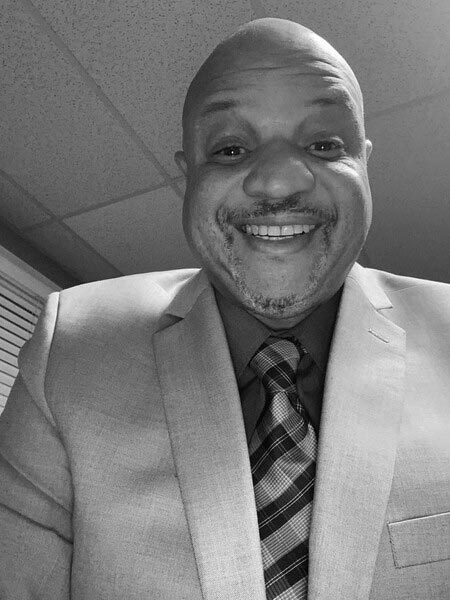 Dean Scott was born on September 15, 1968 in Baltimore, Maryland. In high school, Dean excelled academically, and as a result, was selected to be the valedictorian of his graduating class of 1987. Following that, he enlisted in the United States Army as a military police officer where he served for two decades, including a tour in Iraq, and a humanitarian mission in Goma, Zaire. During his service in the military police, Dean concentrated less on punitive action, and more on education, equity, and inclusion. In 2006, he received a Bronze Star for valor in combat.
Concurrent with his military service, Dean studied at Colorado State University-Pueblo, earning a Bachelor of Science in 1994. Some ten years later, he graduated from the University of Murray State with a Master's degree in Business Administration. Since 2008, he has worked in the traffic safety sector.
Dean Scott became a Community Pastor with New Kingdom of Faith and Restoration Church in Kansas City, Missouri in 2009. New Kingdom of Faith and Restoration Church is one of the area's most dynamic churches, consistently touching the lives of hundreds of people in the surrounding community. Its parishioners put a tremendous value in spreading their energy, faith, as well as serving God and their fellow human beings by donating their time and money to worthwhile charitable endeavors, such as Harvester's Food Network and Toys for Tots.
Can you share a little about the early days of your company?
The early days of the church were educational because we, as the church elders, had to learn what type of ministry efforts actually worked in our community. It was very challenging because we tried all kinds of evangelistic activities like handing out cards at Walmart, but it wasn't drawing people to attend our services. They would take the card and say they would come to the church, but then never show up. Over the years, we found out that it's simply word of mouth and doing what's right in the eyes of God that most effectively draws people. We learned that developing a lasting and genuine connection within the community and building a flourishing ministry does not happen overnight. Ultimately, people are touched by the actions you take on behalf of the ministry every year, every day, and every hour, so long as you do beneficial things to uplift the community. Put another way, if you're in it for expedient buildup of the congregation, you're not in it for the right reasons.
How have you achieved success?
I've achieved success by learning from my mistakes and failures. The greatest achievements come from the endeavors to which you apply your greatest efforts. Hard work and effort are transitory—meaning they last for a moment—but a legacy lasts forever. A legacy is the collection of many achievements throughout a person's life, and that's what people will remember. My wife and I are currently working on building our legacy because we're in the last leg of our ministry.
What obstacles have you overcome in the process?
The number one obstacle I've encountered during my time with the church has been financial. There are a lot of bills associated with maintaining a church building, funding ministry activities, and supporting the less fortunate in our community with food. We work a lot with Harvester's Food Network, and they've been great partners throughout the years. Another challenge has been losing people, whether they've left the church because they didn't feel like their needs were being met or because they've died or because they've moved to a new location. There's a lot of hurt associated with those things, and you have to learn to deal with that hurt and keep a smile on your face.
What drives you to succeed?
I like to see people have success. I'm a people person, so I love to see the joy in people's eyes and the hand of God working in their lives. Just by praying with someone or opening the pantry after operating hours so they can get food provides me with ample spiritual nourishment. It's rewarding to see how valuable that kind of assistance can be for people on an individual level.
How has your definition of success changed over the years? 
When I first started in ministry, I was a young pastor who thought that I would grow the church exponentially, and we would quickly recruit all these people and achieve all these wonderful things. As the years passed, I realized what pastoring is really about, and that's touching the life of someone in the community, helping them get through a hard time, and crafting the church into being a conduit to bless others. In my mind, that's what success is.
What has success meant to you?
Success to me means being satisfied that God is pleased with what you're doing because the fruit of your labor shows in the positive changes to your community. I take the same attitude with my traffic safety work. I make sure that every child is buckled up. With every auto crash I see, I ask how it could have been prevented and what changes could be enacted to keep it from happening again. When you can enact change for the better, that's success.
Do you have advice for others on how to be successful?
I would tell anyone who wants to be successful to study, learn, and grow. Continue to pursue as much education as you can in your life because you're not going to be successful in this world without it. Challenge your mind through trying to do things you don't necessarily think you can do. Be willing to try things that scare you. Be willing to be corrected. Leave your comfort zone.
How do you feel success affects a person's outlook? 
Without question, success changes how you view yourself. It's been my experience that people become depressed when they don't think they're making a difference. For example, when you're successful in your job or task, you feel good about it. Beyond that, you feel good about how you perceive others think about you, too, because you feel like you're making a contribution to the world. My experience when talking to people has been that when they don't achieve success, they feel like they're failing in some way because they've done this or that, but they aren't seeing the results they want. My response is this: You measure success by how much hard work you put into a worthwhile endeavor. You may not see results from that work right away, but you can feel good about making the effort.