Helen Mohsenzadeh is a professional health care administrator, charged with managing the day-to-day operations of Active Plus Home Health facility for seniors and Divine Grace Hospice. To qualify for this position, she earned an associate's degree in nursing (AGN) from the state of California. Helen is also a successful commercial investor and serial entrepreneur, now owning multiple companies, including the health care business that hired her for her first job. 
Originally from Tehran, Iran, Helen left her home country in search of a better life in a place that didn't have quite so many obstacles in place for women to succeed professionally. After divorcing her husband in her late twenties, she set about systematically accumulating the tools and credentials that would allow her to achieve her goals. To begin with, she obtained a driver's license. Helen also educated herself on matters of personal finance, determined to no longer be dependent on anyone else. While busy with all that, she also earned her AGN accreditation within a single year. 
Helen then set about entering the professional world, first as a health care official, then later as an entrepreneur. In the time since, she has put together an impressive portfolio of businesses operating in multiple industries. As of the writing of this interview, Helen Mohsenzadeh owns a hospice startup, a thriving real estate business, and is currently in the midst of founding a combination medical spa and pharmacy. She is also currently developing an upcoming reality television series on the subject of female empowerment.
Helen credits her innate passion and determination as the characteristics that led her to become one of the top female entrepreneurs in Southern California of Middle Eastern heritage.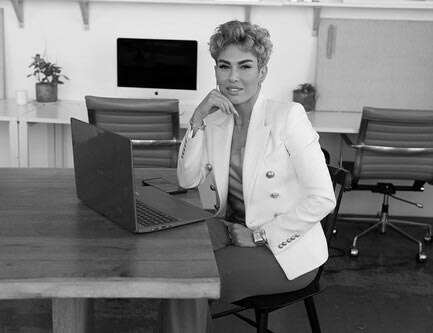 How have you achieved success?
It's been an ongoing process, but it has boiled down to hard work, determination, and never losing sight of what I wanted to accomplish. Those are the three pillars of my success. Along the way, though, I've learned some other handy skills, such as proper time management, delegating responsibility to reliable people, and knowing how to network properly. Those have been invaluable strategies, as well.
How has your definition of success changed over the years?
When I first embarked on my career, I began at something of a deficit. Having come from Iran—a place where the culture, the government, and many other aspects of society don't afford women equal rights, or even teach them certain life skills—my tool kit wasn't as extensive as it would've been had I been raised in California, say, or some other such place. So, I had to focus on small steps in order to gain my independence. For instance, when I made the decision to be self-sufficient, one of the first things I did was learn to drive. When I obtained my license, I viewed that as a major success. When I learned how to take care of my own finances, that was another big step. Of course, as I progressed in my quest for self-sufficiency, my goals became commensurately more ambitious. Acquiring my first company was a massive success for me. And then later, when I started my first business from scratch and watched it grow and thrive, that was a new and more fulfilling kind of success. So, I suppose my definition of success has changed drastically over the years, as I pulled myself out of humble beginnings, realized that life was full of endless possibilities, and explored and pursued exciting new opportunities.
What obstacles have you overcome in the process?
There have been many. At the age of 17, I was arranged to be married. For the following 14 years, I lived a life where my needs and desires were suppressed, and my actions were subject to the approval or disapproval of another human being. That life of near-total subjugation, that sense of being a second-class citizen inside my own home was the single biggest obstacle I have ever had to overcome. By the time I turned 28, I'd had enough. I left my husband and began a new life of freedom and self-determination. Compared with all that, the obstacles I've encountered in the business world seem like a trifle, but they have arisen over the years, of course, and I have dealt with them.
What drives you to succeed?
There is just something inside me that won't let me stop—not that I want to! I suppose it would be what many people call 'drive,' but I just think of it as an inseparable feature of my personality. I want to be one of the most successful female entrepreneurs of Middle Eastern heritage in all of the United States—if not the most successful—and I will not slow down until that is an undisputed fact.
What has success meant to you?
In a few words? Independence. Agency. Choice. At this point, as a successful business owner and entrepreneur, I can do almost literally anything I want with my life. I choose to run my businesses and I choose to keep developing new ones, but if I wanted to, I could sell everything and live out the rest of my days luxuriating on some island in the middle of the Caribbean. Now, I won't be doing that any time soon—I have many more goals I want to achieve. But the point is that I could do that if I wanted to, and my success is what afforded me that independence, agency, and choice.
Do you have advice for others on how to be successful?
The most valuable advice I can relate is to not let others dictate what you do with your life. No matter who you are or where you come from originally, as long as you can make it to a place where freedom and opportunity reign supreme, the rest is up to you and nobody else. Your life is what you make of it. If you want to be successful, all you have to do is adopt a successful mindset, stop listening to naysayers, start working hard, and don't stop until you have achieved whatever goals you've set for yourself. Now, I'm not saying it will be easy, or that you won't hit any bumps along the way—all I'm saying is that success is possible no matter where you start from in life! Just look at me; I'm living proof.
Facebook — https://www.facebook.com/Helen-Mohsenzadeh-109788728268961
Twitter — https://twitter.com/helen_moh1
YouTube — https://www.youtube.com/channel/UCe3RNYhYjfkVGpepowL_ujg
Crunchbase — https://www.crunchbase.com/person/helen-mohsenzadeh
Medium — https://medium.com/@helenmohsenzadeh