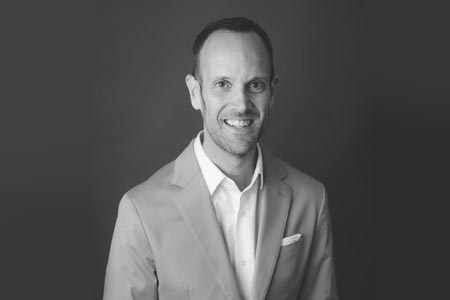 Michael Wood was born in Missouri and grew up in West Des Moines, Iowa. After high school, Michael enrolled in the University of Missouri-Columbia from 1988-1992, earning a Bachelor of Arts degree in Political Science. From 1993-1996, he attended Nova Southeastern University Shepard Broad College of Law in Fort Lauderdale, Florida, ultimately graduating with a Juris Doctor degree. During law school, Michael served on the Journal of International and Comparative Law. He was also a member of the Moot Court Society, as well as the Student Bar Association Treasurer, and the President of the Phi Alpha Delta Law Fraternity International. Michael Wood passed the Florida Bar in 1996 and passed the Iowa Bar in 2001.
Upon entering the professional world, Michael accepted a position at a small law firm in Florida, where he practiced bankruptcy law and criminal law. In 2001, he accepted a position as Senior Counsel with a large national bank in West Des Moines, Iowa. During his time there, he was promoted to Managing Counsel and ultimately to Assistant General Counsel, with responsibility for managing an outstanding team of talented attorneys and paralegals which supported several lines of business within the bank.  After that, Michael worked briefly as Senior Legal Counsel for a credit card issuing bank in the Midwest before taking on his current role, that of Assistant General Counsel for a bank in West Des Moines, Iowa in August 2021.
How have you achieved success?
I think it's important to first understand how you personally define success for yourself before thinking about how to achieve success. For me, it's about whether I'm living up to my own potential, putting my best efforts forward, and not comparing myself to others. I've found I'm most likely to achieve success when I'm working hard, and more importantly, doing something I believe in.
What obstacles have you overcome in the process?
I've overcome a number of obstacles in my pursuit of success. Sometimes those obstacles have been academic and other times the obstacles have involved my career goals. As I've gained experience, I've learned that in many cases, things you may initially perceive as obstacles are actually blessings in disguise redirecting you to a better path. Such obstacles can often provide invaluable life experience and better prepare you for even greater challenges in the future. However, no matter what obstacles I've faced, I've always found that if I keep my goals in mind, there are a number of paths to success, even if my initial plan hasn't turned out as I'd hoped. It's important to not get discouraged when faced with obstacles. Always persevere and stay positive.
What drives you to succeed?
I'm driven to succeed in part by an innate desire to always try my best. I've always believed that if something is worth doing, then you should give it your best effort. If you're not trying your best, then you should be fair to yourself and perhaps reassess whether pursuing the endeavor is really the best use of your time. In addition, I've found success is rarely pursued or achieved individually, and typically involves collaborating with others. Therefore, knowing my colleagues and team are counting on me motivates me to always give my best and strive for success.
How has your definition of success changed over the years? 
As I think back to when I started my professional career, I don't specifically recall how I defined or thought about success. However, over the years, I've found that my definition of success means not comparing myself to others, but rather ensuring that I'm always working to my full potential.  It also means being able to successfully balance work with other important things in life, while still achieving my goals.
What has success meant to you?
For me, achieving success has meant realizing that when I have faith in myself and focus on my goals, I can achieve just about anything.  Achieving success also means building confidence in yourself which helps develop a willingness to set new goals and seek new challenges.  Looking back at my career, I can now see that many of my successes resulted from simply stepping up and volunteering to take on new opportunities that presented themselves. Finally, success has also taught me that failures are great learning experiences and will always be an integral and necessary component of the path to success.
Do you have advice for others on how to be successful?
I would recommend others create their own definitions of success and resist the temptation to compare themselves to others. Then, identify some important goals, anticipate and expect lots of obstacles along the way, and try not to get discouraged. Also, try to stay flexible, and keep in mind there are usually several different pathways to achieving goals.